A huge percentage of the things we buy each year ends up in landfill. In addition,we're all becoming aware of the problems associated with single-use plastics, especially when they're used in packaging.
As part of our Splash! service looking at the theme of Waste, we explored some of the ways we can cut down on the amount of waste we produce...
What Can I Do?
REDUCE
Buy less stuff(!) - A huge percentage of everything we buy ends up in landfill.
Avoid single use plastic packaging - Instead try to buy loose food items or look for products packaged in card or paper.
Refuse plastic straws etc. in restaurants
Have a good look at everything you buy and consume - Is there a reusable, more sustainable, alternative? This can cover everything from sanitary products to magazine covers to drinking bottles and more.
Try to use reusable containers and bottles for food and drink - Most shops will let you take your own containers now.
REUSE
Repair things - rather than replacing them straight away always see if they can be replaced first.
Buy and sell secondhand (or even get it/give it away for free)
Try and upcycle items or think about how they can be used in creative ways.
RECYCLE
Recycling should always be considered the last resort, not the solution!
Lots of recycling can now be put out for the kerbside collections. However, there are also collection points for other items at the recycling centre, in supermarkets or in other locations.
Ellie's Fund
Ellie's Fund is a brain tumour research charity which is taking plastics which can't normally be recycled and using them to raise money for their research. You can send items to directly to the charity, or take them to a number of local drop off points (these include Otterton Community Shop, Ashbury Dental Care, Point in View Chapel and Whiskers & Wagtails in Exmouth). For full instructions and more details, click here.
Videos
Watch David Attenborough talking about climate change and our planet.
For the full episode of Blue Planet II looking at the impact of climate change on our seas, click here.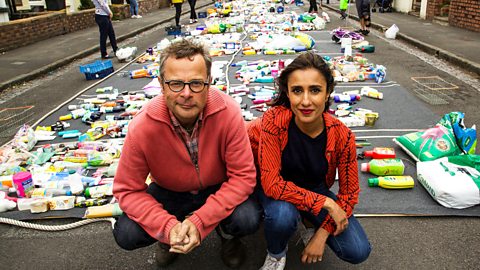 For a more recent series exploring the problem of plastic waste, see Hugh & Anita's War on Plastic here.